Display <Premium>
Stable, space-saving and attractive presentation of up to 12 stick waffles. Removable protective shield made of clear plexyglass, 4 mm thick, 33 cm height.
Dimensions: 43x19x7 cm,
Material: brushed stainless steel, weight 1,7 Kg
Display <Standard>
Like Display <Premium>, without shield, weight 1,0 Kg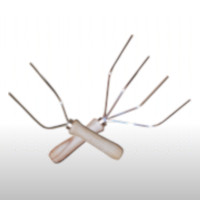 Waffle-Fork
Unequaled for easy and safe removal, especially of bigger waffles. This Tool is available in 2 versions, with 2 and with 4 tines.
Material: wood and stainless steel
Wood-Sticks
100 Pcs. in a polybag, stretch-free, hygienic, tasteless and food-safe. Dimensions approx. 15x2x0.2cm. Without imprint.
Application: Simply place on the filled dough - bakes by itself.
Advantage: Practical - the other hand remains free, saves paper plates.
Branding
Your logo will be accurately branded on one or both sides. 100% free of chemicals.
Advantage: attachment of an additional complementary advertising message in the immediate field of vision.